Show off your Inner Singer to the World at Encore, Odyssey 17
Odyssey 2017 is the annual Cultural Fest of IIIT-Delhi. One of the bigger events in the Festival
Encore is the solo-singing competition, with an amazing number of diverse singers with beautiful 
voices. This event is easily the heart and soul of the competition. Talent comes from all over the 
country to take part in this renowned country-wide competition. 
Voices from the depth of the 
soul take over with lyrics deep as the ocean, and mesmerize the audience beyond control.
With singers who make covers on their YouTube channels, and have an exceptional 
fan-following taking part in Encore, the competition is going to be crazily intense! If you think 
you're a good singer, you're what Encore is looking for!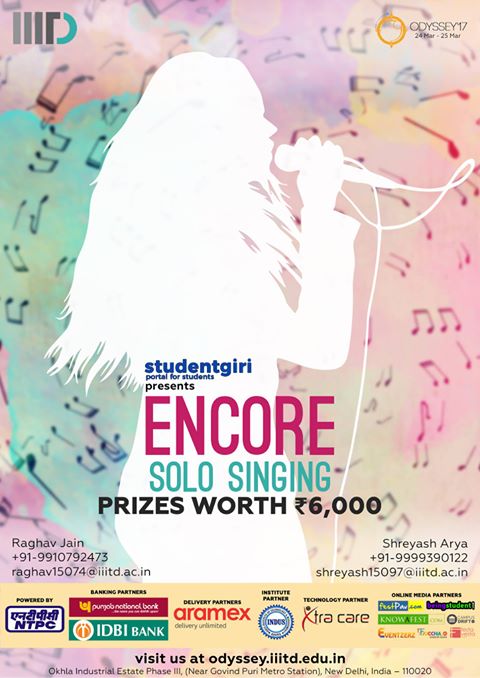 Odyssey on the whole, is going to be huge this year. With competitions like Hasratein and 
Reverbe in store for the participants and the audience, it is going to be the biggest fest that 
anyone has seen in a long while. The Bobby Joshi workshop on 18th March at IIIT-Delhi for 
photography enthusiasts will surely attract a huge audience. Moreover, the Odyssey '17 Nirvana 
Night is hosting THE LOCAL TRAIN on 25th of March, and Odyssey will be experiencing a 
footfall of 15k+. The Local Train will perform their spellbinding songs at IIIT-Delhi for the 
amazing audience of Odyssey '17, and we would love for you to be there too.
Event Website & Register: 
http://odyssey.iiitd.edu.in/events/encore
Facebook Page: 
https://www.facebook.com/events/1386266561391977/